Hockeytoronto Adult Skills Sessions
$25 per skills session
$50 for 2-2.5 hour skills/pickup game
$40 with our Discount card!!!
or $200 for 10 sessions
(Sessions do not have to be consecutive)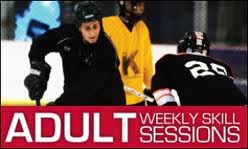 Coed Adult skills sessions
Skills sessions are $25/session cash
or $20/session with our 10/$200 discount cards

Next sessions!!
SATURDAY morning
and occasional Sundays
Check Hockey schedule link on website
Link: http://www.hockeytoronto.com/index.cfm?cat=192
for exact time and location!!

Every Saturday morning at ScotiaBank Pond
and WEDNESDAY evenings at Chesswood

Please email/text to reserve a spot!
E: hockeytoronto@sympatico.ca
Text: 416-505-1725
GO TO HOCKEY SCHEDULE LINK FOR DETAILS
Link: http://www.hockeytoronto.com/index.cfm?cat=192


Video!!!
http://www.youtube.com/watch?v=sZ1TgxlYAu8

This is a program meant for
lower level recreational to intermediate level players,
but all players can benefit from the extra ice time.
The program will be mostly skating(front & backward),
with emphasis on cross-overs and improvement of the basic stride.
Also stick handling and shooting drills, which will attempt
to improve the players balance on her skates and work
to improve weight distribution, to get the most out of every stride and shot.

Please confirm your attendance by email
and call if you have any questions.

Video
http://www.youtube.com/watch?v=8kJHnU5JzWM&list=UUG4zHF05VH5Ixq_pX5YATpw&index=167


or call 416-505-1725 for details

Sessions are pay-as-you-skate, $25/session for the skills
and $40/session for skills and pickup game.
Goalies are no-charge!!!

Let us know how these skills sessions are goin'!!
Send positive and negative feedback
to hockeytoronto@sympatico.ca

Other sessions are available

To get on our 'Skills email list'
Send us an email to hockeytoronto@sympatico.ca