2018 Date to be announced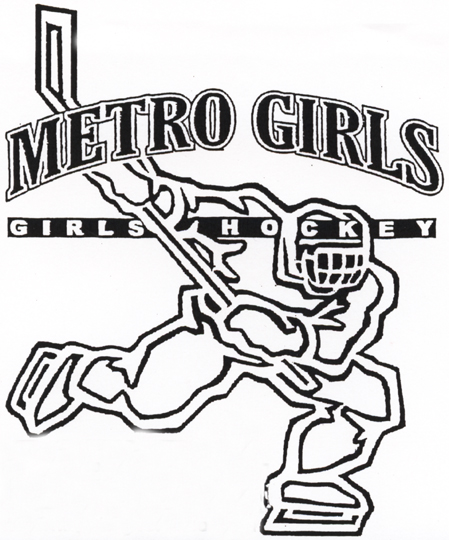 Seventh Annual Metro Girls
High School All-Star Hockey Classic '07

On April 18th 2007, the top female high school
hockey players competed in our one day tournament.
The top players from each school will compete with
players from their school board against teams from across Ontario.
Teams are comprised of players from schools
corresponding to the previous school boards.
Previous teams have included:
From the public board; Etobicoke, North York, Toronto, Scarborough, Durham, York Region and Peel, plus the Independent schools.
From the Catholic Boards; Dufferin-Peel,
TDCAA, York Region & Durham Catholic

WE CURRENTLY HAVE INTEREST FROM
YORK REGION CATHOLIC, NIAGARA REGION,
TORONTO CATHOLIC, HALTON CATHOLIC,
INDEPENDENT SCHOOLS AND OTHERS!
All teams are guaranteed three games.
All players receive souvenir t-shirts!!
Awards to winners and finalists!
Top ten players will be awarded MVP awards!!
First game 9am or 10am; second game noon or 1pm;
Finals at 3pm
Cost is $50/player

For more information, contact us
at hockeytoronto@sympatico.ca


Previous participants in our tournaments include:
Jayna Hefford and Cherie Piper from Team Canada
Gillian Apps (Havergal) Dartmouth
Meredith Amin (Northern)
Ashley Banfield (Havergal) Harvard
Sarah Bush (Richmond Hill) Western
Lynn Campbell (St Josephs-Morrow Park) Windsor
Michelle Chartier (De la Salle) U of Guelph
Latoya Clarke (Dunbarton) Minnesota State
Nicole Corriero (St.Roberts) Harvard
Ashleigh Cranston (St Clements) McGill
Teresa Delmonte (St Thomas Aquinas)Mercyhurst
Theresa Ella (King City) Northeastern
Nicole Elliott (Scarborough) Manhattanville
Annie Fahlenbach (North Toronto) U of New Hampshire
Jodi Faye (Leaside) Wisconsin
Gillian Ferrari (Langstaff) Aeros NWHL
Kendra Fisher (Havergal) Toronto Aeros NWHL
Allyson Fox (Loretto Abbey) Brampton NWHL/York U
Martine Garland (De la Salle) Brampton NWHL/U of New Hampshire
Alana Goulden (Aurora) York University
Janna Harrigan (MM Robinson) Ohio State
Jenn Houlden (Langstaff)
Leslie Hurlburt (Markham District) Connecticut
Jenn Jessop (Aurora) Findlay
Heather Logan (Bishop Strachan) Aeros NWHL
Katie Kenny (College Francais) Brown
Bree Krukis (St.Clements) U of T
Naomi Kupferstein (Langstaff) Wayne State
Sarah Lomas(Bishop Strachan) McGill
Krista McArthur (Alliston) Univeristy of Minnesota-Duluth
Kim McCullough (Northern) Dartmouth/Brampton NWHL
Lindsay McCulloch (Scarborough) Minnesota-Mankato
Fiona McLeod (North Toronto) St Cloud State
Jenny McRae (Lakefield College) U of T
Sheri Maisonneuve (Cardinal Carter) Minnesota-Mankato
Urszula May (Earl Haig) University of Toronto
Candice Miller (Unionville) York U
Kira Misikowetz (Peel) U of New Hampshire
Candice Moxley (Markham District) Niagara University
Safiya Muharuma (Northern) U of T
Jenn Mulick (Cardinal Carter) Manhattanville
Peyton Patterson(Brampton) Wayne State
Natalie Patton(Holy Name of Mary) York U
Cherie Piper (Campbell) Dartmouth/Aeros/Team Canada
Cheryl Pounder (St Martins) Aeros NWHL/Laurier/Team Canada
Melanie Pudsey (Erin District) Minnesota-St Cloud State
Margaret Ramsey (Cardinal Newman) Brown
Krissie Rutherford(Humberside) Western
Samantha Shirley (Mississauga) Mercyhurst
Christina Sorbara (Bishop Strachan) Brown
Robin Spratt (North Toronto)
Ashley Stewart (Notre Dame) Minnesota-St Cloud State
Kelly Stewart (Notre Dame) Minnesota-St Cloud State
Christine Traynor(Loretto Abbey) Western
Renay Taylor (Notre Dame) University of Guelph
Yvonne Tsang (Loretto Abbey) University of Toronto
Barb Tyers (Lorne Park) University of Toronto
Flora Vineburg (North Toronto)
Chrissy Yule(Mississauga)Mercyhurst
Kelly Zamara (Oshawa) Wayne State
Kristy Zamora (Oshawa) Brown